DPA will be celebrating the International Day of Person with Disabilities (IDPD) from 15 to 16 November 2013 at The Atrium at Jurong Point Shopping Centre.
The annual observance of IDPD was sparked by the proclamation of the International Year for Disabled Persons in 1981 by the United Nations General Assembly. The IDPD aims to raise awareness and understanding of disability issues among the general public, as well as promote the full participation and equality of persons with disabilities in society. 
Our theme for this year's celebration is "Let's Talk About Disability!" – which is especially apt in view of the Government's recent ratification of the United Nations Convention of the Rights of Persons with Disabilities. For the disability community in Singapore, this marks an important milestone and significant step towards an inclusive society in which they can enjoy equal rights and access in all aspects of life. 
"Let's Talk About Disability!" at Jurong Point will feature exhibition booths by disability VWOs, stage performances and games, talks on disability issues as well as a screening of DPA's recent nationwide public education campaign on the issues persons with disabilities face in getting around Singapore. 
We hope you can join us at DPA's IDPD celebrations. We believe this event is an ideal opportunity for you, your family and friends to enjoy an exciting and fun afternoon, whilst promoting a very worthy cause.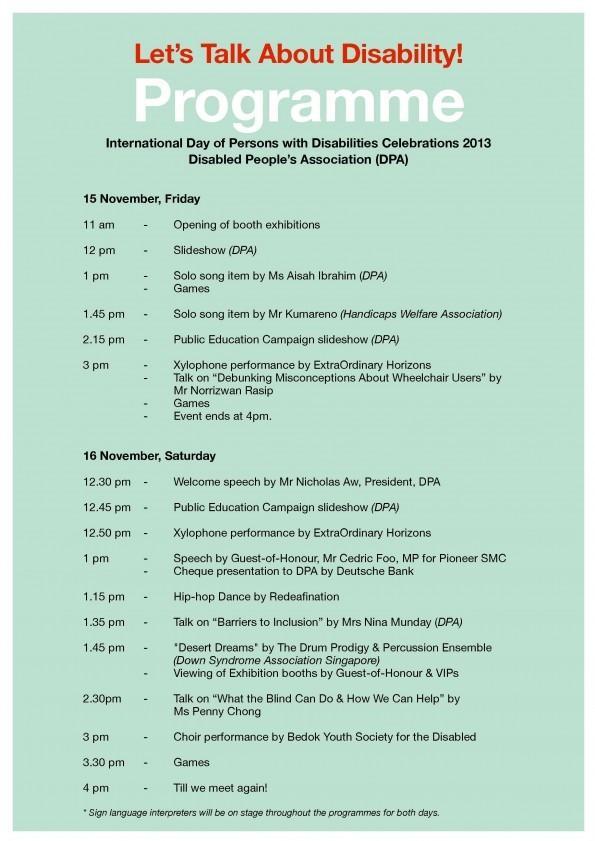 We would like to take the opportunity to express our heartfelt thanks to our main sponsors for their immense kindness and support:
Jurong Point (venue sponsor)
Kwan Im Thong Hood Cho Temple
Lee Foundation 
Zenaco CO2 (S) Pte Ltd 
Deutsche Bank 
Many thanks, too, to:
McDonald's 
NTUC Fairprice Foundation Ltd