Disabled People's Association (DPA) is Singapore's only cross-disability non-profit organisation. We represent the disability community, working to build a fairer society where everyone can participate in all aspects of life, from education to employment and access to social integration.
A Voice of Our Own: We are an organisation for people with disabilities run by people with disabilities. We listen to the needs of all persons with disabilities in Singapore, their allies, carers and other social service organisations that provide essential services, and we ensure their needs are represented at a national level. We provide a platform for all people with disabilities to speak up and ensure their voices are heard, and we represent those less able or comfortable to speak for themselves.
We help the disability community have a voice in society by working with decision-makers in political, commercial and educational institutions so that no decision that impacts us is made without us. We also provide training for both people with disabilities and the public, so we can work together to create an inclusive, accessible society we are all proud of.
In 1980, Mr Ron Chandran-Dudley decided to set up an organisation of persons with disabilities for persons with disabilities. Ron was motivated by the belief that to further the cause of the disability movement, one must engage persons with disabilities in that process, thereby empowering them to have a voice of their own. When Ron decided it was worth doing, he would find a way regardless of the difficulties involved. After acquiring a disability at 19 years old, losing his sight after a sporting accident, he graduated from the London School of Economics and later obtained a master's degree with the support of his wife, Mrs Rena Chandran-Dudley.
Ron rallied a group of persons with disabilities and about 100 volunteers to hold the first World Congress of Disabled People's International (DPI) in Singapore. Over 450 delegates from 52 countries attended and DPI was formed in Singapore on 4th December 1981, with Ron unanimously elected as the first World Chairman. From those humble beginnings, the DPI now has over 100 DPI affiliates in more than 90 countries around the world. DPI was also part of the International Disability Caucus, now the International Disability Alliance (IDA), that lobbied for the United Nations Convention on the Rights of Persons with Disabilities (CRPD). The CRPD was adopted in 2006 by the United Nations and is an international human rights treaty that reaffirms the rights and dignity of persons with disabilities and was the culmination of everything that Ron and DPI had been working towards.
Ron registered DPI's Singapore Chapter, Disabled People's Association (DPA), on 28th April 1986, the first advocacy organisation registered in Singapore. In 2007, the Government announced the first Enabling Masterplan and this was then followed up by two subsequent Enabling Masterplans with another in the planning stages now. DPA continues to contribute to these plans through consultation and having DPA board members sit on the Enabling Masterplan committees.
DPA has worked tirelessly with the Singapore Government to ensure that persons with disabilities are involved in policy formulation and implementation. Other than the Enabling Masterplans, DPA has collaborated with Government statutory boards such as the National Council of Social Services on nationwide public education campaigns such as "Let's Chat" and with the Building and Construction Authority on the Code on Accessibility in the Built Environment, helping to ensure building and public spaces are more inclusive. DPA also sits on the Accessibility Committee for the Central Business District. Although much has been accomplished, there is still some way to go. Not only do more people with disabilities need a seat at the table, we need to ensure more of the disability community has the means and opportunity to get to the table.
Sadly, Ron passed away in 2015, but not before Singapore became a signatory of the CRPD on 30th November 2012. After all the years lobbying for the CRPD, it was finally adopted by his home country. In 2019, DPA fulfilled its founder's legacy by submitting a Parallel Report to the United Nations CRPD Committee for Singapore's first ever review. DPA was honoured that Rena, Ron's wife, was able to be a part of the process, attending the initial session with our local disabled advocates. Unfortunately, Rena followed her husband, departing from us in December 2021. DPA continues to follow both their lead in giving a platform to persons with disabilities to have a voice in the decisions that matter and engaging with allies to support that journey.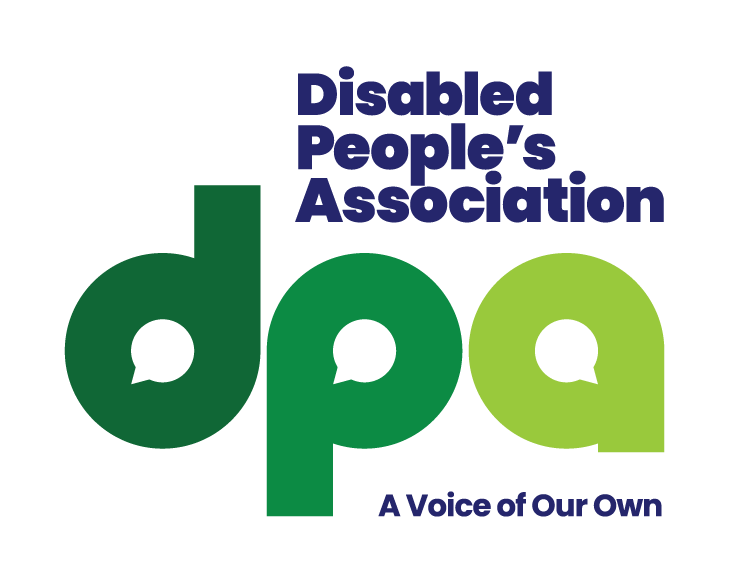 From the displacement of the organisation's name and the introduction of three shades of green, DPA's new logo represents an organisation of breadth and depth, and being current and progressive.
The three speech bubbles together represent the voice of the community it serves – people with disability, DPA as an organisation representing its community and the various partners and ministries it works with.